Meets 3rd Wednesday of Month
Chair:
Pamela Coenen - Securus Insurance Group
Staff Liaison:
Christine Wolf
Mission:
To create an atmosphere and spirit of goodwill as the official "Ambassadors" of the Chamber to our membership and community.
Committee Priority:
To be a positive and visible image of the Chamber through Ribbon Cuttings, Member Visits, and Networking Events.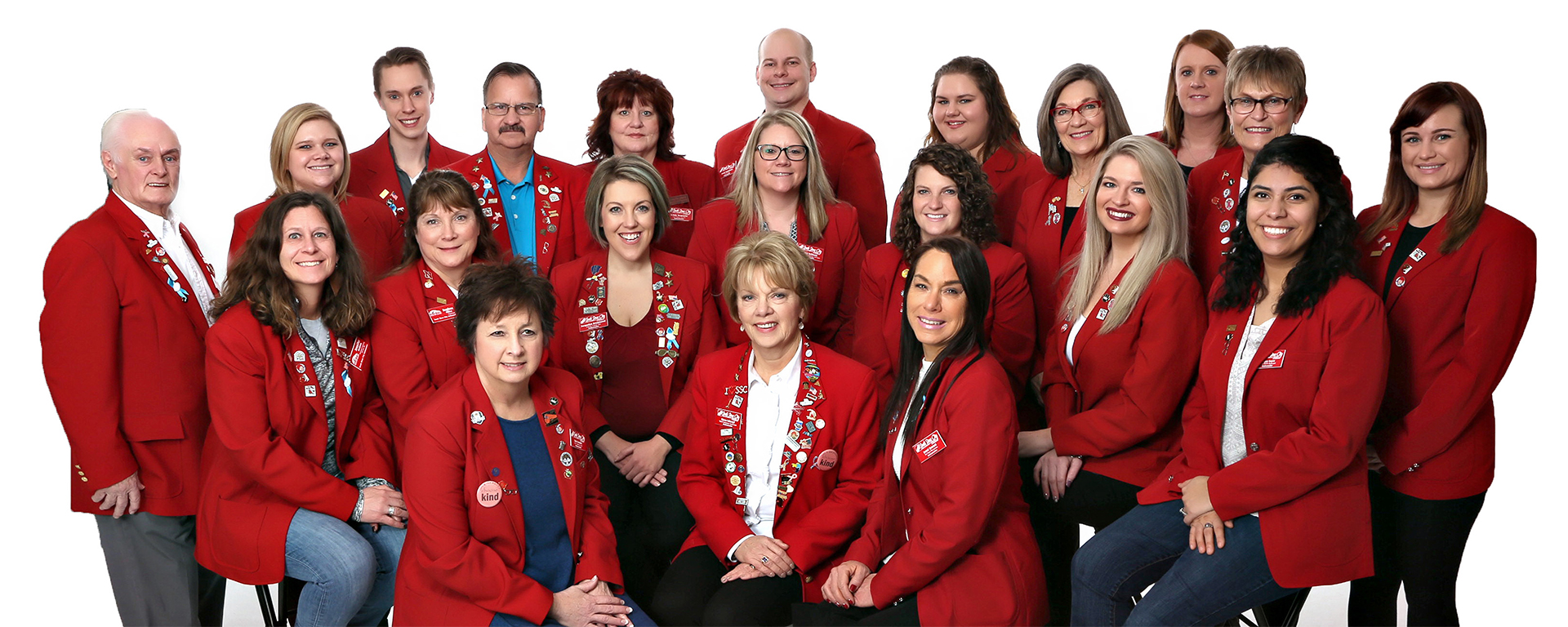 FRONT ROW (left to right): Lora Kander - South Sioux Optimist Club, Diane Schoepf - F&M Insurance, Jenni Durant - Tri State Physicians & Physical Therapy Clinic
CENTER ROW (left to right): Jennifer Jo Jividen Jackson - Heartland Counseling Services, Inc., Daphne Miller, Jacquelyn Brummond - Jumpy Monkey Coffee Roasting Company, Marcy Sellman - Heartland Counseling Services, Inc., Kate Griffith - Delta Hotels by Marriott SSC Riverfront, Pamela Coenen - Securus Insurance Group, Sujey Sayre - PREMIER Bankcard
BACK ROW (left to right): Keith Nielsen - LegalShield, Angela Lias - KTIV, Scott Manley - Arthur J. Gallagher, Pat McKeever - Wendy's Restaurant, Kristy Tremayne - New Stage Players, Jared Noteboom - F&M Bank, Mary Beth Quattlebaum - Aventure Staffing, Diane Kincaid - Kincaid, Fett, Tharp VisionSource, Brooke Hensley - KTIV, Ardel Bengtson, Kaylee Langseth - Courtyard Sioux City Downtown/Convention Center
NOT PICTURED: Brian Van Berkum - SSC Police Department, Maria Gonzalez - Northeast Community College, Pat Brandes - Dairy Queen, Jason Duncan,  Kim Milledge - Powell Broadcasting, Pam Everett - Travel Memories, Gloria Oorlog, Lisbeth Ramirez - Haven House.
The focus of the South Sioux City Area Chamber of Commerce Ambassadors is welcoming new members to the Chamber and encouraging participation and involvement in the business community. They act as a liaison to the Chamber for new members.
Celebrate Your Success With Us!
The Ambassadors visit members who are celebrating anniversaries, store expansions, new owners/managers, relocating, etc. ...
Contact the Chamber office to schedule an Ambassador visit to your business. These visits help all members connect with each other for the good of the individual businesses and the good of the community.
Ambassador committee responsibilities include but are not limited to:
Increasing Membership
Ribbon Cuttings
Ground Breakings
Golf Social
Membership Retention
Grand Openings
Coffee Hours
Chamber Banquet